Research Overview
The WVU CED stimulates and promotes interdisciplinary research where scientists, practitioners, and people with disabilities work together to tackle disability-related issues relevant to West Virginia. One of the key objectives of the WVU CED is improve the lives of West Virginians of all ages with disabilities by supporting diverse, inclusive communities. Our research aligns with that mission and addresses the domains of employment, access to quality health care, health and wellness, and transitions.
Trainee publishes research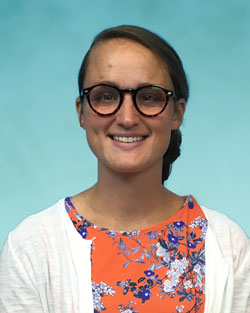 Speech-pathology trainee, Lauren Glover, was published in Clinical Archives of Communication Disorders journal. The article "A Study of the Judgment Accuracy of Repeated /r/ Stimuli by Graduate Clinicians," shared findings from research conducted alongside her mentor, Dennis Ruscello. The study examined the integrity of judgement accuracy and found no statistically significant evidence of auditory perceptual confusions.
Glover was a graduate trainee with the CED's Leadership Education in Neurodevelopmental Disabilities (LEND) program. The LEND program trains students by using mentors from their fields of study to prepare them to serve children and youth with disabilities and their families. Since graduation, Lauren was hired to work as a speech pathologist at the WVU Medicine Children's Neurodevelopmental Center.
Current Research Initiatives
Accountable Health Community (AHC) Project
This project is a CMS-funded randomized controlled trial to examine the benefits of providing patient navigation services to address social service needs. The purpose of the initiative is to provide a bridge of coordinated care that would link individuals' medical homes with social service providers so that their social service needs are resolved and they are able to respond to medical treatment and advice.
The WVU CED, DD Council, and WV State Advocates are providing the teams and expertise to navigate individuals to social service providers; WVU CED is coordinating these services. Specifically, partners will utilize completed assessments of social service needs among individuals seeking medical treatment within the Partners in Health medical clinics. Once the needs are identified, we will utilize our existing inventory of social service providers throughout the state to connect social service providers to the individuals in need.
Appalachian Rural Health Integration Model
The CED is partnering with the West Virginia Office of Maternal, Child and Family Health, Project W.A.T.C.H. and the West Virginia Home Visitation Program to address neonatal abstinence syndrome service challenges. This collaborative has developed the Appalachian Rural Health Integration Model, which will work to continue strengthening the existing infrastructure for children with special needs and their families.
The project, funded by the U.S. Department of Health and Human Services Maternal and Child Health Bureau, will expand the home visitation infrastructure in six northern West Virginia counties that have some of the greatest incidence rates of NAS among infants.
Funding Opportunity Announcement - Demo sites for WV Impact
West Virginia Intellectual/Developmental Disabilities and Mental Illness Co-existing Conditions Needs Assessment Survey
The CED's Positive Behavior Support (PBS) project is conducting a needs assessment survey to better understand the service needs of West Virginians that have a co-existing developmental disability and mental illness. The study involves an anonymous online survey of mental health and IDD services providers. Analysis is underway.
The University of Pittsburgh Medical Center is seeking adults with Down Syndrome to participate in a research study.